Meet Handle-Tech,
Your #1 Safety Tool
This ingenious tool makes picking up and carrying industrial pipes and hoses, with an outer diameter of 2 to 12 inches, easier, safer and cleaner.
Forget unwieldy pickups that strain both hands. Nix awkward dragging across the job site. Carry on with Handle-Tech to reduce injuries and speed up your work.
Shop Handle-Tech Products
Watch How Handle-Tech Makes Jobs Faster, Easier & Cleaner
Handle-Tech is the Best Tool for Carrying Hoses and Pipes
Handle-Tech's patented, sturdy design can handle a load of up to 400 pounds, and holds pipes and hoses from 2 to 12 inches. With a simple "click-and-grip" feature, a user can easily clamp our lightweight handle around an unwieldy hose or pipe, and then lift or move it with far less effort and personal contact.
EASY TO USE
Grip and move with just one hand; add second spare handle for two-man jobs
HIGH-QUALITY
A heavy-duty device, made in North America, with lightweight long glass nylon and HDPE
VERSATILE
Clamps onto hoses and pipes from 2" to 12"; 400-pound lifting capacity
#1 SAFETY TOOL
Reduces back/hand/foot injuries; developed with industry feedback
Stay Cleaner with Handle-Tech
Handle-Tech is the perfect tool for sewer pumping and cleaning, industrial vacuuming, grease handling, hydro excavation and more. Handle-Tech users save serious time, energy, strain and—maybe best of all—money. (Cleaner gloves and uniforms means lower costs for cleaning and replacement.)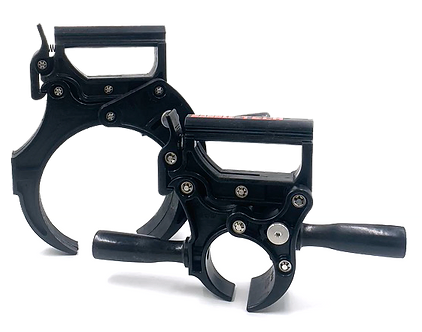 FOR USE IN THE FOLLOWING INDUSTRIES
Oil and Gas, Wastewater, Environmental Services, Construction, Agriculture, Firefighting and More.
Why customers love their Handle-Tech handles!
"I wish I had one 10 years ago!"
Why customers love their Handle-Tech handles!
Handle-Tech is made in the U.S.A. with American and Canadian-sourced components
Under new ownership since 2019, Handle-Tech is part of a Pennsylvania-based family-run business dedicated to providing smartly designed, high-quality tools and manufacturing parts to the professionals who need them. Our customers' satisfaction and success is our top priority, and we pride ourselves on responsiveness and making sure our customers have what they need to get every job done well and efficiently.